Ingredients
Method
Grease a 2 pound loaf tin

Set oven at 160° C

Mix the flours, spices and baking powder  together.

In a separate bowl, beat together the marg, sugar and honey until light in colour .

Gradually  add in the eggs and flour.

Stir in the grated carrots and orange juice

Spread out  evenly into a lined 2 pound loaf tin.

Bake at 160 – 180° Celsius until cooked to an orange brown  colour

Loosely  cover with a sheet of tinfoil  after about  30 min

Cook for 45 – 50min approx altogether.
Icing
Mix together 2 ounces of butter, 1 tablespoon of orange  juice and 6oz icing sugar.
Add the juice very  slowly and gradually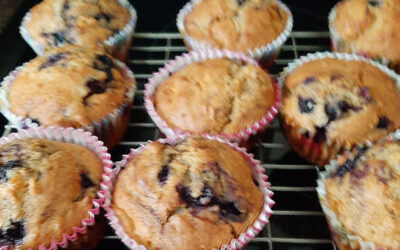 https://youtu.be/l6L9OOYx-sw15 minutes17 - 20 minutes12Muffins Ingredients Method Grease a Muffin tin Set oven at 180° C Sieve 8 ounces of Self-raising Flour into a large mixing bowl Add the Salt, Light Brown Sugar and Ground Almonds to the f Flour and mix together...
read more