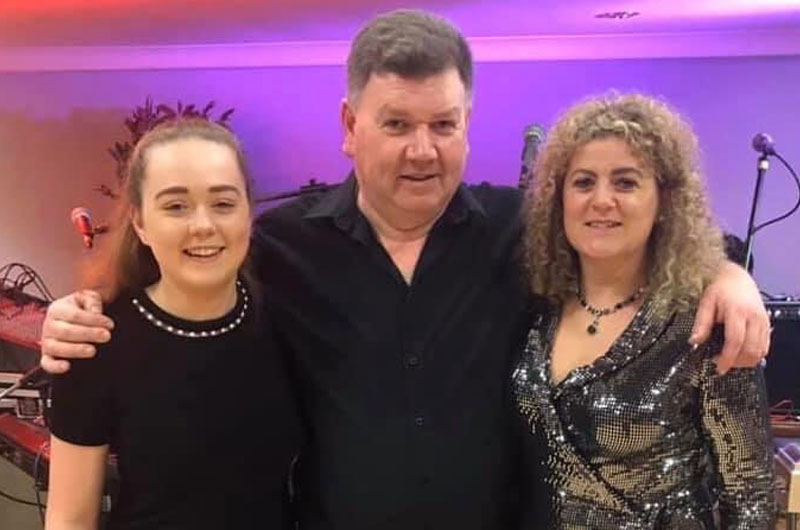 Finbarr Dennehy is a well known musician and entertainer on the social dancing scene, playing at all the popular dancing venues around the country.
Finbarr, a native of Glanmire is also very well known in farming circles, as were his late parents Dennis & Cait (nee Kearney) a very famous musical family from Inchigeelagh in West Cork. Finbarr has been playing the accordion since he was 5 and has won All Ireland trophies for it. He also toured Europe as a musician with the Cowhig School of dancing from Cobh. Finbarr has also a number of very popular albums to his credit and has videos of his live shows on YouTube. Finbarr has been joined onstage for the past number of years by eldest daughter Chloe.
Chloe is an 18 year old Leaving Cert student in Glanmire Community College, Chloe began playing violin when she was 5, attending the Cork School of Music where she sailed through her grades, she is now a multi instrumentalist playing violin, mandolin, banjo, steel guitar and plays the full size Cello with the school orchestra and also sings.
Chloe has a very popular single out and was in the process of producing another one when the lockdown was introduced. When school allows Chloe accompanies her Dad to various dances and has built up her own fan base of people who have followed her progress from a shy 11 year old to the accomplished singer/instrumentalist she has become. Her career is also being followed by some very well know musicians who have advised her, not least being international steel guitar soloist Sarah Jory. Chloe was lucky enough to buy one of her steel guitars and they will arrange to meet when Sarah gets to visit Ireland again.
Maura, Finbarr's wife and mother to Chloe and 3 other daughters, is also very well known in Glanmire as she is an SNA in St. Josephs NS for a number of years and could always be relied on to sing a few bars at a session. Maura also took part in the hugely popular Glanmire Dancing with the Stars recently. While always supporting Finbarr in the background and keeping the homefires burning while he was on the road, she was thrown in the deep end last year when Finbarr had a bit of a scare with his vocal chords and had to give up singing completely for a few months. Maura stepped out on stage and the Dennehy Family band was born. They have since become a huge hit on the dancing circuit.
When Lockdown was declared, dancing and socialising was forced to an abrupt halt, Country & Ceili came into being as a bit of a craic from their front room, to keep them in touch with their many friends and fans, and keep the music gear in working order, its now become a new way of socialising. That first Friday night on 17th April everyone was gobsmacked to see it had racked up nearly 2000 views when the show ended, it has since been watched over 7500 times! There have been 7 shows to date notching up more and more live viewers with each show.
Finbarr's Facebook page and his phone have nearly melted with the amount of messages from all the corners of the world, the shows have been watched in Australia, North & South America, all over Europe and of course Ireland and particularly Scotland! Offers are coming in for them to travel outside of Ireland when this lockdown is over. People are sending in requests from all over the world which they do their best to include each week. Its not a formal show but very relaxed and spontaneous and anything can be said amid much laughter and online banter.
Friday night from 8:30 pm to 10:30 pm is running against the main news and the Late, Late show and Country & Ceili has continued to build a viewing audience and hold them week after week as the show last week now has over 10,000 views. The Dennehy family are joined by Finbarr's cousin Tony Kearney, renowned accordionist who has relocated from the UK to Glanmire.
Tony Kearney, originally from Inchigeelagh has spent a number of years in the UK playing Irish Clubs and pubs and is a very well known and accomplished accordionist. he has a vast repertoire of irish, Scottish and Continental accordion music. The music scene in the UK has changed in the last few years and Tony made the decision to return to Ireland.
Tony spent a number of months going back and forth fulfilling any engagements he had before finally arriving at the same time as the Corona virus and the shutdown which has seriously impacted a lot of musicians who depend on it for their livelihoods. Tony has been part of all of the Country & Ceilli sessions earning himself the nick name of Taighin Hat, because of his eccentric head gear every week.
Visit Finbarr on https://www.facebook.com/finbarr.dennehy